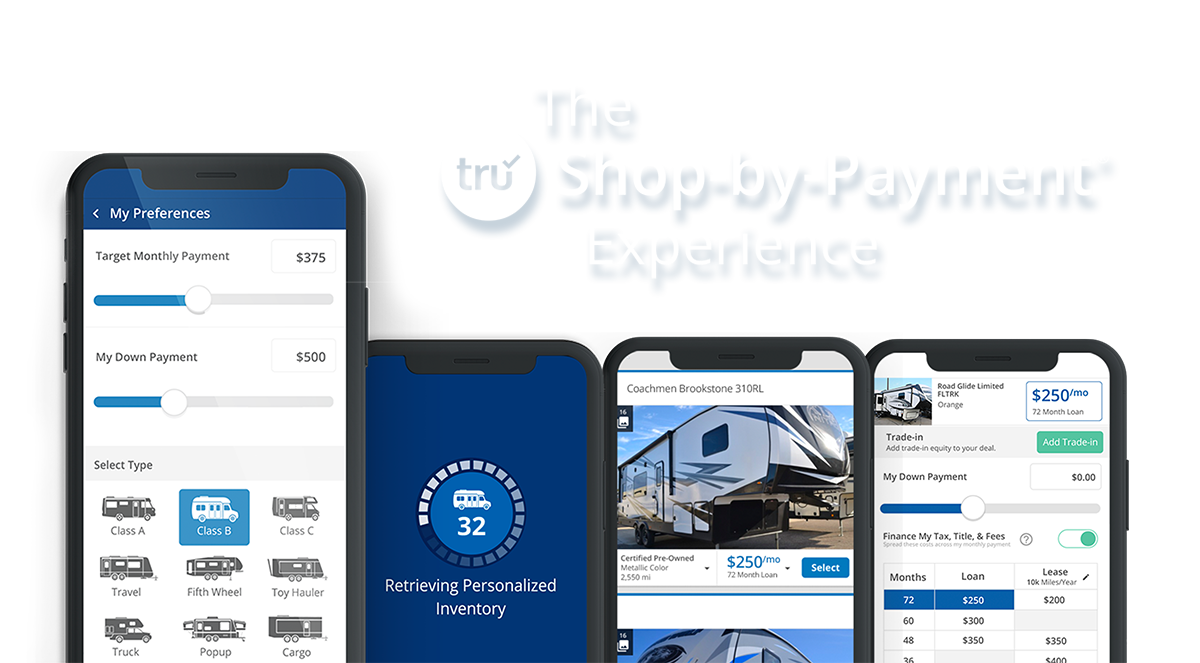 Begin with the end in mind.
For the majority of potential RV buyers, the most important part of the buying decision is knowing what their real monthly payment will be..
Personalized payment shopping is the best digital sales tool on the planet.
Introducing tru Shop-by-Payment™
Give your customers a game-changing experience from the moment they land on your site or respond to a campaign, and they won't go anywhere else. Get a super-lead and a happy customer from every engagement, not just when the customer moves forward with the buying process. Lead your market!
Allowing consumers to comparison shop inventory based on accurate personalized monthly payments enhances customer satisfaction and builds trust, while increasing front and back end profits for the dealer. It's good for the consumer and good for the dealership.
Generate more qualified leads.
Accurately quote rate, term, down payments and payment based on customer's credit profile.
Automatically value trade and calculate approximate Payoff.
Gain sales efficiency and save on labor costs.
Increase front-end and back-end Profit.
Full compatibility and integration with existing website, landing pages and social media.
Why tru Shop-by-Payment WORKS

REVOLUTIONARY, NOT EVOLUTIONARY
tru Shop-by-Payment™ is one-of-a-kind. We've leveraged technology to truly transform the powersports shopping experience. We've turned the process upside down. By starting with credit, we allow consumers to shop for their vehicle and financing together across all the dealer's inventory and finance programs simultaneously. The customized shopping experience begins not with selecting a vehicle, but with personalization. Each customer journey is uniquely built around their preferences, financial profile, and the context of their entry point and/or prior activities.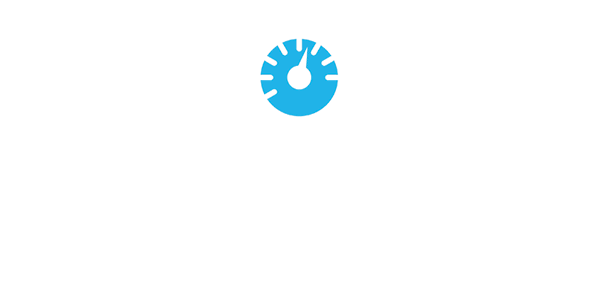 THE RIGHT CONTROLS
Rules for key deal terms (price, mark-up, trade value) are set by the dealer during initial implementation and are easily updated through our dashboard. Our unique self-desking tools let the customer dynamically control their deal preferences (loan/lease, term, down payment, trade-in), see real time updates to all payment options, and select the right option for them. The customer feels empowered and in control of structuring their deal, while the dealer gets the front and back-end profit they want.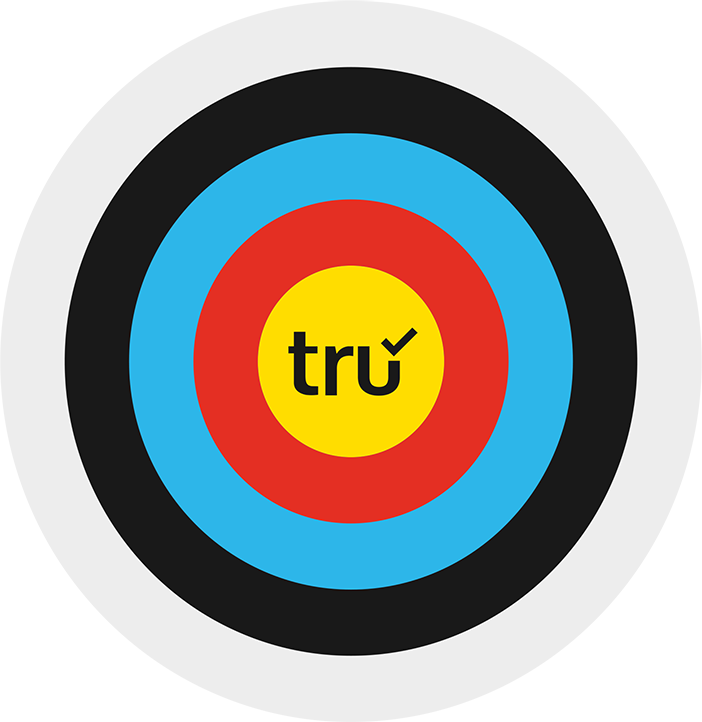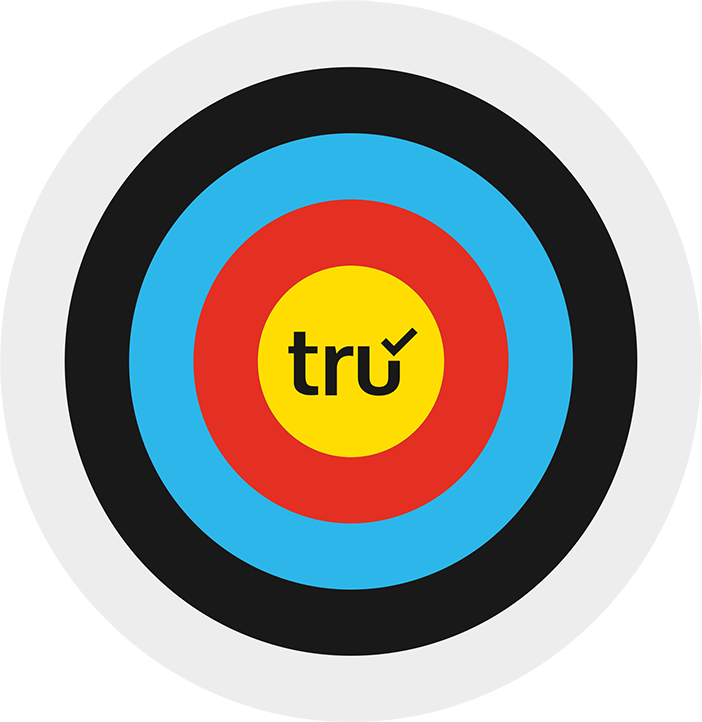 REAL NUMBERS MATTER
Presenting customers with inaccurate payment options results in frustration, embarrassment and lost deals. We've been in online finance for over 20 years and have perfected online payment quoting and customer conversion. Our patent-pending truPayments® engine calculates accurate, personalized (real credit) payments in real time – not just on a single vehicle, but simultaneously on all your inventory, across all your finance programs, for all available terms, with rebates, incentives, specials, etc. Customers only see real payment options for which they actually qualify, so there are no frustrated expectations, building confidence and trust and producing sales.

ADAPTIVE
From browsing inventory with real personalized payments to dialing in a deal and scheduling delivery, customers can go as far in the process as meets their needs – seamlessly across any device, at home or in store. And, our configurable platform allows the dealer to select what they want customers to be able to do. Whatever the customer does, the dealer receives a lead with all the customer's financing and vehicle preferences, as well as a full credit bureau.
More than 70% of online shoppers use mobile devices. tru Shop-by-Payment™ was built on our new, mobile-first Grail® platform. Grail® has been specifically engineered for the best mobile experience possible, as well as a great experience on any other device. Your customers can easily jump right into their personalized, one-to-one shopping experience – Anytime, Anywhere, Anyway®.
POWERFUL ENGAGEMENT TOOLS
Payments on Inventory
Payment buttons on inventory on SRP and VDP, linking to Shop-by-Payment™. Buttons include a custom call-to-action selected by the dealer, which increases engagement and leads. Payments quoted on buttons prior to one-to-one engagement adhere to MAP requirements.
Quick Pre-Qualify
Allows the customer to obtain lowest rate for which they qualify, using a soft credit pull. Links to Shop-by-Payment™. Dealer receives full credit bureau with the lead.
Payment Calculator
For shopper's interested in estimating their payment, allows customer to calculate a payment based on rate, amount financed, term, etc. without a credit pull. Links to Shop-by-Payment™.
Landing Pages
Custom landing pages with Shop-by-Payment™ embedded. For use with marketing/social media campaigns. Can be themed for specials, make/model, etc. to further personalize the experience and maximize conversion.
Instant Trade-In Equity
Allows the customer to obtain estimated trade equity instantly, utilizing dealer-configured trade value (e.g. KBB wholesale) and loan balance from soft pull. Links to Shop-by-Payment™. Dealer receives full credit bureau and trade equity data with the lead.
Custom Marketing Assets
Themed Shop-by-Payment™ video. Custom banners, buttons and other CTAs. Custom Shop-by-Payment™ digital campaign assets, formatted for social media and GoogleAds.
truPayments, LLC is a financial technology company with deep roots in eCommerce and the Automotive Industry. truPayments® is a subsidiary of Automobile Consumer Services, Inc. (ACS), a financial services and technology company based in Cincinnati, Ohio. Our executive team has more than 100 years of combined experience leading start-ups and high growth companies (as well as a few turnarounds), more than 100 years of technology and eCommerce experience, and more than 50 years of automotive industry experience. We've put that experience to work building our latest offering: our tru Shop-by-Payment™ product built on our all-new Grail® platform.
Let's Work Together!
Are you ready to own your market by giving consumers the tru Shop-by-Payment™ experience? Are you ready to provide your sales team with more deals in less time, meaning more profit for you? Complete the form or give us a call, and we'll get you started with a demo.
Toll-Free: 800-223-4882
Local: 513-527-7700
truPayments, LLC
6249 Stewart Avenue
Cincinnati, OH 45227
© Copyright 2021. All Rights Reserved. truPayments, LLC.