The History & Today's Perspective
Overview
Automotive Digital Retailing or Digital Retailing (DR) is a hot topic right now in the auto industry. There are currently some 20+ companies claiming to offer some form of Digital Retailing. Many were showcasing their digital wares at the 2019 and 2020 National Automobile Dealers Association's (NADA) annual expos.
DR has actually been around for 20 years and as new technology becomes available, new strides are being made. But does all the hype match the results?
There are currently some 20+ companies claiming to offer some form of Digital Retailing.
Most dealers who use some form of digital retailing report lackluster sales results.
Maybe we should understand what DR is and what it is not. Most DR solutions are like putting the shopping cart before the horse. What does that mean?
DR is the transaction/shopping cart piece of the car buying journey and starts once a shopper has decided to become a buyer, after making a vehicle selection from SRP/VDP pages of your website.
Consumers are not going to buy from you just because you have a DR solution on your website. Helping consumers narrow their search and decision making (shopping) is what drives DR (transaction) and hence, more sales.
Other terms being thrown around in the same discussion as Digital Retailing is transparency and personalization.
We can all agree that both are important for a consumer to make a purchase decision but as dealers are told they need to be more transparent, what does that really mean? And does DR alone, provide real personalization?
Providing full transparency before knowing who the shopper is, contributes to four problems.
It gives shoppers the wrong information; pricing (MAAP), payments, rates, and puts you at a disadvantage when your competitor uses your transparent information against you.
You can't provide a personalized shopping experience without knowing who the shopper is. ie: Their location, their real credit situation, qualifying incentives/rebates, your e-Price.
You leave yourself open to claims of discriminatory lending if the interest rate you quote in-store is higher than what a shopper sees on your website when they "self-credit".
You encourage Webrooming. Where a car buyer does their research on your website then goes to your competitor's store and buys the vehicle. Webrooming is one of the main reasons contributing to lower in-store dealer visits.
Nick Gorton, VP of Product Innovation with Edmunds says "Offering payments online …. may not hold as much value if consumers get a payment offer and simply use it to get a better deal somewhere else."
Dealers should understand the differences between DR solutions currently available and the impact they can have on lead volume, sales, and profits.
2000: An Automotive Digital Retailing Odyssey Begins
The year was 2000 and a leasing company, with already a 10-year history of facilitating online car sales through a dial-up BBS service, CompuServe and the Internet, launched the first online leasing marketplace, LeaseCompare.com.
… and Automotive Digital Retailing was born!
Over the next few years Automobile Consumer Services, Inc. (ACS), the technology company behind LeaseCompare.com, would continue to innovate DR. Adding financing offers, the creation of a proprietary loan origination system (LOS), complete with electronic communication between consumer, dealer and ACS's lender network. Credit applications and deal structures were electronically submitted directly to lenders through a connection with Route One. ACS was the first company to facilitate franchise and independent dealers' direct access to DR.
Image sourced from Archive.org, c., 2000
2008: The 2008 Auto Industry Crash
When the auto industry crashed in 2008, ACS changed its core business model and created a dealer-to-consumer version of LeaseCompare.com called DriveItNow®.
DriveItNow's SAAS tool was integrated on hundreds of dealer websites, helping to generate thousands of leads and sales.
DriveItNow® performed better than any lead generation product available. Typical results reported by dealers:
Increased lead volume 25 to 40%
Lead engagement over 75%
Appointment to Show over 80%
Closing ratios average over 20%
Front end Profit increased by 25%
Back end Profit increased by 33%
The Trademarked DriveItNow® Call-to-Action payment button encourages the shopper to click for a quick and easy online purchase.
Image sourced from Archive.org, c., 2008
Most DR products on the market today are derived from the original DriveItNow® model. By 2016 DriveItNow® had already calculated and quoted over 4 billion monthly payments on dealer websites.
And There's More!
Also, in 2008, ACS used DR when it was contracted eBay to power and provide financing for the eBay Motors Finance Center. Because the buyer and seller were rarely in the same state, DR was instrumental in facilitating these online transactions.
Images sourced from ACS archives, c., 2011
2010: A New Breakthrough in Digital Retailing
2010 brought the next big breakthrough in DR. The launch of Soft-Pull Credit Bureaus. ACS, through an agreement with TransUnion, created the first use of full file credit bureaus with a soft-pull code. The Soft-Pull bureau data was identical to a Hard-Pull file. It also did not require the shopper to provide personal sensitive information like a DOB or SSN.
This was a revolutionary change in the path-to-purchase. By putting credit first and instantly pre-qualifying the customer, vs at the end of the sales process, deals were completed faster, customers received realistic payments and rates, and it helped eliminate discriminatory lending practices.
Soft-Pulls also helped ACS spur all kinds of DR technological automation advancements. Including a new instant credit decisioning engine that resulted in more accurate monthly payment quoting. It allowed the calculation of the applicant's trade-in equity, then used in the payment calculations. It also eliminated the need for the buyer to guess what their credit score was, thereby increasing the accuracy of payments quoted.
For the first time ever, DR generated credit qualified leads and deal structures giving the shopper peace of mind and the dealer valuable information to make it easier and faster to close the sale.
"All too often, consumers try to hide the bad credit stuff even though they know it will come out sooner or later. That's why it makes sense to discover this stuff early, because the last thing you want is for your customer to be embarrassed."
2013: Digital Retailing New Comers
DealerTrack's Payment Driver & Finance Driver product
Thirteen years after the launch of LeaseCompare.com, and the original DR solution, did another company appear on the scene with a similar product called Payment Driver. Launched at NADA2013 by DealerTrack, it was their first payment quoting offering in the space and was immediately followed up with Finance Driver, allowing consumers to submit credit applications from a dealer's website. Like most DR products on the market today, DealerTrack modeled their offering based on the original DriveItNow® solution.
Image sourced from DealerTrack's Published Marketing Materials, c., 2013
The tru Shop-by-Payment® experience
2013 was another big innovation year for ACS and DR. Its patent-pending tru Shop-by-Payment® tool hit dealer websites and became an instant success. It answers the #1 thing on a shopper's mind when they are buying a car, "What can I afford"?
It helps dealers quickly show a customer all vehicles in inventory that meet their monthly budget and creditworthiness using a one-to-one personalized shopping experience.
tru Shop-by-Payment® changed how website visitors zero in on the right vehicle in your inventory listings. By starting with their credit, customers see only the vehicles and financing options for which they qualify. This moves them faster down the purchase funnel by eliminating unnecessary website complexity and providing a one-to-one shopping experience, customers can engage in a way that is personally relevant to them.
Sourced from ACS video archive, c., 2018
Inspire a Purchase®
Wow! That's how customers feel when they experience tru Shop-by-Payment®. They discover vehicles they didn't know they could afford. They can comparison shop financing and inventory simultaneously in a way that is personalized so they feel confident moving forward with the purchase process. Personalized Shopping gives dealers the power to connect customers to their inventory in a unique way that will truly "Inspire a Purchase"®.
Personalized Shopping Benefits:
You know who's shopping, their purchase intentions, and their creditworthiness
Quote shoppers real payments based on their real credit bureau and your E-Price
Show all vehicles in your inventory shoppers can afford to buy
Increase CTA engagement
Higher close ratios
Full-spectrum credit buyers
Convert the 19% (Jumpstart Media survey) of those who are undecided whether to replace or keep their current vehicle
Enhances your Digital Retailing solution
By transforming and personalizing the shopping experience, you'll engage, surprise and delight customers – accelerating their movement through the shopping and buying processes. You'll enhance your CSI scores, your online reviews, your sales volume, and your front and back-end gross. More deals, less work, no change in process, and customers with a smile!
tru Shop-by-Payment® is the DR piece that fills the shopping cart/transaction funnel.
2015 - 2019: The Wave of Digital Retailing Solution
Image sourced from DealerTrack's Published Marketing Materials, c., 2013
A host of new DR players hit the market touting their "innovative" solutions.
Unfortunately, each one uses the same similar outdated path-to-purchase that DealerTrack modeled back in 2013.
A Tale of two Digital Retailing Models
Credit Last Model
This is the most widely used Automotive Digital Retailing solution in the industry today. It's built on an outdated "credit-last" path-to-purchase. It basically takes the current in-store model and duplicates some of the functionality online. Nothing new here.
Disadvantages:
You have no idea who is using the information. A shopper at a competitor's store or your competitor to set their prices/payments below yours.
No instant pre-qualification. Buyer must wait hours or days knowing if they qualify for the deal they started online, leaving your site to continue shopping elsewhere.
The estimates given online is not likely what they see in the store, leading to dealer mistrust and a bad experience
DR begins when a vehicle is selected; this limits access to only lower funnel buyers
Hard credit pulls exposing yourself to trigger leads going to your competitor
Limited to OEM MAAP higher price limitations
Engages with the only 1 in 4 consumers who've selected a brand, model.
Dealers report lackluster results
Images sourced from DealerTrack's Published Marketing Materials, c., 2013
Key Data Highlights
87% of dealer respondents agreed that it's common for payment estimator tools to provide inaccurate or unrealistic payment expectations.
74% of dealers report that nearly 1 in 3 digital retailing-initiated deals that included a non-qualified payment quote, must be rewritten.
74% of dealers agreed that, on average, 6 of every 10 deals that must be re-worked, are unable to be saved.
60% of the surveyed dealers say they wait to pull credit until after the deal has been negotiated.
https://www.prweb.com/releases/new_report_asks_is_digital_retailing_promising_more_than_it_can_deliver/prweb16048341.htm
Credit Last Industry Insights
1/23/19: New Report Asks: Is Digital Retailing Promising More Than It Can Deliver?
An eLEND Solutions survey indicates that auto dealers are ready to embrace digital retailing, while highlighting "experience" disconnects: tools providing inaccurate and/or misleading quoted payment terms are key culprit say 87% of dealers
According to the report, dealers who adopt digital retailing tools are striving to deliver a frictionless buying experience, including more transparency about the 'deal' but, these same surveyed dealers report that basic payment calculator estimator tools are actually getting in the way of their desire to evolve. In fact, an astonishing 87% of dealer respondents agree that it's common for payment estimator tools to provide inaccurate or unrealistic payment expectations. And it is impacting sales: 74% report that well over a quarter of deals that include digital retailing-provided payment terms have to be rewritten (with 37% reporting that between 51 and 100% have to be redone!) — and the majority lose over 60% of those sales.
"Because most of these tools return unqualified payment quotes – unmatched to the customer's credit profile, a specific vehicle and, crucially, any of the dealer's lender programs, they establish an unrealistic payment expectation that leads to an unavoidable conflict and consumer dissatisfaction," said Pete MacInnis, CEO of eLEND Solutions.
The report also uncovers some alarming disconnects. For example, nearly 60% of the surveyed dealers say they wait to pull credit until after the deal has been negotiated which causes time delays in the sales process because the deal terms haven't been qualified or matched to the dealer's own lender programs before negotiations.
"In order for digital retailing to deliver on its considerable promise, the tools need to start providing realistic, 'qualified' payment quotes," said MacInnis. "The sooner real consumer-qualified finance terms matched with dealers' lender programs can get involved in the deal, the more profitably they can be structured and the more satisfied consumers will be."
NOTE: At a 2018 conference hosted by industry consultant, Brian Pasch, showed videos of consumers using ten different digital retailing tools. Consumers hit a stopping point well before they were able to complete an online transaction.
Credit First Model
The Credit-First model turns the purchase process upside down. By starting with credit, customers see only the vehicles and financing options for which they actually qualify for. By providing a customized shopping experience, customers can engage in a way that is personally relevant to them.
Real credit, real rates & rules, real pricing and mark-ups, real trade equity, real inventory, real payments = real personalization.
Wow! That's how customers feel when they experience real Personalized Shopping. They discover vehicles they didn't know they could afford. They can comparison shop financing and inventory simultaneously. Personalized Shopping gives the dealer the power to connect customers to inventory in a unique way that will truly Inspire a Purchase™.
In 2017, Cars.com CEO Alex Vetter said, "You're going to see a lot more innovation here on being able to shop by payments."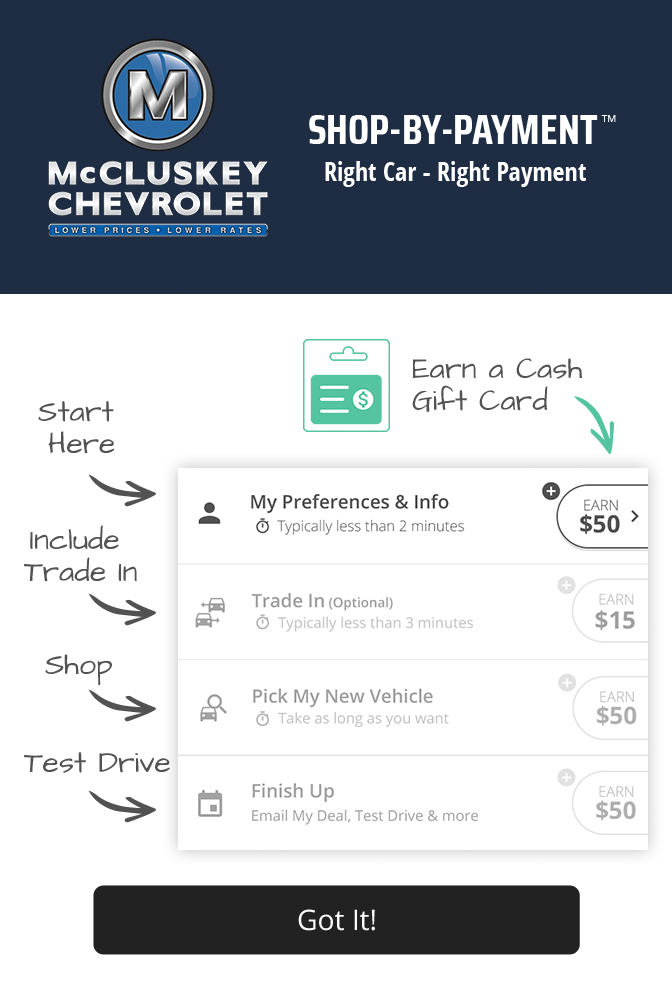 Image sourced from GermainFord.com, c., 2018
You know exactly the name and credit of the person seeing your information
Real credit, real rates & rules, real pricing and mark-ups, real trade equity, real inventory, real payments
The experience is a one-to-one personalized shopping experience, ensuring the lowest payments and a realistic expectation of vehicles in your inventory they can afford.
Engagement can be from your website, landing pages, social media, email campaigns
Soft-Pull Full Bureau File lets you work deals in stealth mode, eliminating trigger leads to your competitor
Soft-Pull Full Bureau File lets you work deals in stealth mode, eliminating trigger leads to your competitor
A great customer experience meaning higher CSI scores
Generate Super Leads
Engage, surprise and delight shoppers
Higher front and back end profits
A Credit First Digital Retailing Lead
truPayments rich, credit qualified leads include not only basic contact information but also:
Vehicle(s) of interest
Financing preferences
Trade-in equity
Prequalified financing selections
"soft-pull" credit bureaus
Link to the full credit file
Typical close ratios
average over 20%.
tru Shop-by-Payment® Case Study
The Participants
Dealer Authority partnered with DriveItNow® to develop a digital strategy that generates the most qualified leads in the automotive industry. Dealer Authority used its expertise with driving targeted traffic to dealership websites and DriveItNow's® expertise in converting payment buyer leads with digital engagement products.
The Process
Dealer Authority built custom landing pages for the Jeff Schmitt Group's website, along with uniquely crafted content and search teams.
Dealer Authority focused the pages around payment-focused shoppers and seamlessly integrated the tru Shop-by-Payment® tool by DriveItNow®.
Dealer Authority built targeted Facebook campaigns and created News Feed ads that utilized the same graphics and content as the landing pages to ensure consistency of the advertising message and shopping experience.
DriveItNow's® proprietary truPayments® engine incorporated the dealer's inventory, one-to-one pricing, applicable rebates/incentives, trade-in equity, OEM & bank financing criteria, dealer mark-up, and a soft-pull of the customer's credit bureau to deliver a one-of-a-kind personalized Shop-by-Payment™ experience.
From the landing page, customers were able to search and filter across inventory for vehicles they liked that matched their budget based on real pre-qualified monthly payments. They could then select their desired vehicle and financing terms and schedule a test drive or appointment.
This type of prequalified lead delivers high sales conversion and feeds nicely into online or in-store digital retailing platforms.
The Results
Budget: $600 / Leads Generated: 208 / CPL: $2.88
tru Shop-by-Payment Call to Actions
Automotive Digital Retailing
The History Today's Perspective
Summary
So, does Digital Retailing really help sell more cars?
The answer is yes if used in conjunction with digital merchandising. You must get a shopper to decide to buy your vehicle. Then take them down the path of the shopping cart/checkout, or DR.
DR by itself does not do much to help bring new buyers into the market or quickly get them zeroed in on the right car. Sifting thru pages and pages of vehicle listings and playing with complicated UIs showing estimated payments and numbers they know are not real, does not instill much faith or help to provide a positive experience
Targeted marketing and CTAs with vehicles that are merchandised in a way that helps shoppers feel empowered and personalized will absolutely garner more sales and will also help bring new people into the market to buy, far more than DR alone.
As you ponder on a DR solution remember to look past the promises and hype and look for companies that are truly revolutionizing the buying experience, not just evolutionizing it. Have them demo their wares on a mobile device since more consumers are using their phones to shop. If an OEM or website provider is giving it away or at a very low cost, remember what Benjamin Franklin once said, "The bitterness of poor quality remains long after the sweetness of low price is forgotten."
It's most likely best to avoid companies that say they have every piece of the DR solution from start to finish. It's not that simple and you'll be in with dealers who experience mediocre results at best.
Keep your merchandising and digital retailing focused on consumer affordability and personalization. Using a credit-first model is the best way to get you there and you'll be a step ahead of your competitors who are using the outdated credit-last model.
Image sourced from truPayments.com, c., 2018
Adaptive Digital Retailing®
About the Author
Tarry E. Shebesta, CEO Automobile Consumer Services, Inc. truPayments, LLC
A dynamic entrepreneur with 30+ years of blazing the automotive digital trail. A pioneering and innovative force in the industry.
Tarry started Automobile Consumer Services, Inc. (ACS) in 1989 as the first-ever automotive dial-up Bulletin Board Service. Later, ACS became a dealership and an online leasing company. ACS is the originator of many technological firsts, from which dealers and automotive vendors benefit today.
After the 2008 market crash, ACS provided financial resources for dealer's customers who wanted to lease their vehicles. ACS created DriveItNow® to market monthly payments on dealer websites.
ACS built an online loan origination system (LOS) to manage the eBay Motors Finance Center and facilitate cross country financing & sales. The first-ever digital retailing solution!
In 2010, ACS struck a deal with Transunion to provide a soft-pull full file credit bureau. ACS could instantly pre-qualify shoppers and provide real payment offers without affecting their credit score or requiring an SSN or DOB. Another industry first!
ACS's best technological invention is Shop-by-Payment (SBP). This patent-pending SAAS technology, for dealers and lenders, transforms the car shopping experience. Starting with credit first, SBP allows consumers to shop for their vehicle and financing together across all vehicle inventory and finance programs simultaneously. The customized shopping experience begins not with selecting a vehicle, but with personalization.
For 2020, ACS established truPayments, LLC, a financial technology company. truPayments® is a suite of technology products and web API services on the GRAIL® platform that supports new dealer customers, OEMs, lenders and the current 500+ dealers using DriveItNow®.
GRAIL® products and technology can be white-labeled for companies wanting a quick-to-market credit-first technology solution without spending millions of dollars on development. API access to the credit-first truPayments® quoting engine is available for companies who want to build in-house solutions.
Tarry is a subject matter expert on live TV shows, including CNBC, FOX Business, and Bloomberg TV. A media consultant for the Wall Street Journal, Business Week, Forbes, Money, USA Today, and others. A speaker at numerous conferences, including Digital Dealer, Auto Intelligence Summit, Consumers Bankers Assoc (CBA) and others.
Past president and current board member of the National Vehicle Leasing Association (NVLA).
Tarry looks forward to working & collaborating with the best & brightest in the industry!